The Minefields of Military-to-Civilian Transition
10 February 2020
How can military veterans prepare for their transition into the private sector? What are common misconceptions and pitfalls faced by those in the process of transitioning to a civilian life and career, and what resources are available to help? How can veterans effectively translate their military experience into corporate America?
Bryan Zawikowski, AF Academy graduate, VP and General Manager of the military division for Lucas Group with 25 years of recruiting experience, explains to successfully streamline this often challenging transition. Host, Fred Coon, Stewart Cooper & Coon, CEO.
About the Guest: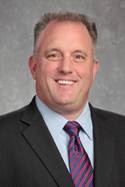 Bryan Zawikowski has been a recruiter for 25 years and is the vice president and general manager of the military division for Lucas Group, named one of the top 10 executive recruiting firms in the nation by Forbes for 2019. Under Bryan's leadership, Lucas Group's military division has redefined the industry, setting the gold standard for helping military veterans transition into corporate America.
A graduate of the U.S. Air Force Academy and an ICBM Operations and Standardization Evaluation Officer, Bryan's expertise is a direct result of his own military experience, his enthusiastic hard work, and his relentless commitment to understanding and fulfilling the needs of his candidates and clients.
Connect with Bryan via LinkedIn or Email BZawikowski@LucasGroup.com